Gel wax candles are crystal clear aesthetic candles that are made from petroleum-based wax and contrary to what many people think, gel wax candles are not toxic. They're often said to be toxic because they're made from mineral oil and polymer resin.
In this article, we'll be discussing what gel wax candles are, if they are toxic, what is used in making them and how to make your gel wax candles. You'll also learn the safety measures to take while using gel wax candles.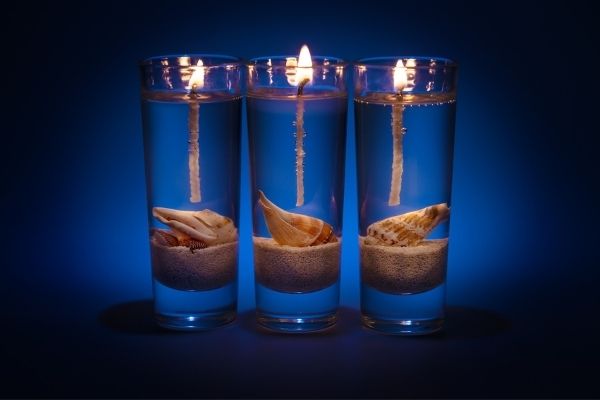 WHAT ARE GEL WAX CANDLES?
Gel wax candles are transparent candles made from a blend of 95% of mineral oil and 5% of powdered polymer resin. The polymer resin pulls the mineral oil together to give it a gel-like consistency and it is also responsible for the slow-burning nature of the candle.
Because gel wax candles are transparent, when mixed with different items such as glitters, the entire candle lights up. The clearness of the gel allows you to see the different items inside.
Gel wax melts are also hugely popular right now and you can read about them here to learn what they are and how they work.
ARE GEL WAX CANDLES TOXIC?
There is no proof that gel wax candles are toxic. These candles release chemicals like toluene and other volatile organic compounds while burning, however, it is not enough to cause toxicity.
The mineral oil and polymer resin used in making gel wax candles are by-products of refining crude oil, the same product used in making paraffin wax candles, which are considered safe. There is nothing to support the claim that the chemicals released while burning these candles are sufficient to pose danger to health.
Do gel candle wax release chemicals while burning? Yes, it does. Burning gel wax candles releases chemicals like Furans, Aldehydes, Acrolein, and Benzene, but in very minute quantities that have low chances of negatively affecting either your health or the environment. However, like all candles, they can be hazardous if handled without caution.
HOW TO STAY SAFE WHEN USING GEL WAX CANDLES
When using gel wax candles in your home, you need to be mindful of some rules in order to stay safe:
Use only non-flammable embeds for your gel wax candle.
Most gel waxes are not firm enough to stand alone, so you have to place them in a container
Do not use a leaky container to store your gel wax candle
The container must be able to withstand heat from the flame and melted wax as gel burns at high temperatures.
Generally, you shouldn't leave candles unattended or close to children and pets.
DO GEL WAX CANDLES LAST LONGER THAN REGULAR CANDLES?
Gel wax candles have a longer burning time than paraffin wax candles. The combination of mineral oil and polymer resin makes the wax melt slower thereby increasing its burning time.
The slow-burning time is a consequence of the polymer resin which increases the boiling point of the candle so that the candle doesn't burn out quickly. So, yes, gel wax candles last longer than regular candles and they last almost twice as long as paraffin wax candles.
You can find out more about candle burning times by reading this post.
WHAT DO YOU NEED TO MAKE GEL WAX CANDLES?
Now let's talk about what you need to make your own gel wax candle.
Firstly, you'll need these items in order to make your own gel wax candle: Gel wax, pouring pots, saucepan and heat source, a cooking thermometer, wax embeds, non-polar fragrance, glass jar, and wicks.
HOW TO MAKE GEL WAX CANDLES
After you've gotten all the items listed above, follow these easy steps to make your own gel wax candle at home:
Place the gel wax in the saucepan and melt it over the heat source. Keep the flame low because a higher setting will make it smoke more; You don't want to ruin your gel wax.
Measure the heat with your cooking thermometer. Remove the gel immediately your thermometer reads 200 degrees Fahrenheit, if not, it will turn yellow.
Dip your wick into the melted gel, then leave to dry on a paper towel. You must do this to prevent bubbles from forming inside your candle.
Place the wick in your glass jar and support it with chopsticks so it can stand straight.
Add a few drops of any fragrance oil of your choice with less polarity or you could opt for essential oils. Polar fragrances will leave your gel cloudy because they are not soluble in gel wax.
Using a pouring pot, slowly pour your gel into the glass jar containing the wick until it gets to 1/4-inch of the jar. You have to pour it gently to avoid bubbles.
Add your embedding items – wax embeds, glass figurines, seashells, glitter, sand, marbles, or sea glass.
Relocate your gel wax candle to a space where it can cool off. Choose a location that is free of disturbance to avoid bubble formation.
If you followed these steps carefully, then you have successfully made your own gel wax candle.
CHOOSING THE RIGHT EMBED FOR YOUR GEL WAX CANDLE
When picking out embeds for your gel candle wax, make sure it is non-flammable. You can use embedding items that won't burn, like seashells, metal florals, sea glass, pearls, glass petals, marbles, and glitters. Do not add plastics to your gel wax candle unless it will melt inside it.
Also, do not stuff too many embedding items into your gel wax candle, else your candle will not burn.
HOW TO GET BUBBLES OUT OF GEL WAX CANDLES
In any event that you could not prevent bubbles from forming in your gel wax candles, there's an easy-peasy way to remove them.
Put the candle on a metal surface and place it in a preheated oven, then leave it there for 30 minutes. By the time you pull it out, your candle will be bubble-free.
As an alternative, you can leave your gel wax candle under bright sunlight for an hour to remove bubbles.
CONCLUSION
Gel wax candles are beautiful additions to your home, especially when embedded. They produce a longer-lasting smell than regular candles because they burn slower. This means that you don't have to worry about replacing them as often as you do your regular candles.
You'll enjoy using gel wax candles because of their brilliant glow and beauty, you just have to be careful with the kinds of embeddings you use in them to avoid hazards.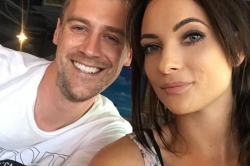 Latest posts by Andrew Scents and Aroma
(see all)