If you're a DIY enthusiast and you love lip balms, you're in luck! In today's article, I will teach you how to make a lip balm with beeswax.
The best part about homemade lip balms is that you can change the ingredients as you please. I've been making lip balms at home for about 2 years now and not only do they smell amazing but they're actually super effective, nourishing, and cheap!
Making lip balm with some beeswax, shea butter, coconut oil, and essential oils of your choice takes less than 15 minutes, so let's begin.
Is Beeswax Good For Lip Balm?
Beeswax contains natural emulsifiers that help keep moisture, so it's the perfect moisturizing ingredient. You can find this component in many store-bought lip balms. Beeswax can help restore chapped and dry lips, so let's learn how to make a lip balm with beeswax in 9 easy steps!
How To Make Lip Balm With Beeswax?
Making natural lip balm isn't rocket science. On the contrary, it's a fun and easy DIY project that takes 15 minutes of your time and requires only a few widely accessible ingredients.
The best part? You can control what goes into your lip balms. Homemade lip balms also make thoughtful gifts, so if you're in the mood for making a lip balm, follow these nine steps.
Step 1: Add 3 tablespoons of carrier oil into a jar
Both coconut oil and olive oil make great options. They're also readily available. Other excellent options include avocado, jojoba, apricot kernel, sunflower seed, and sweet almond oil.
If you will be adding your mix into jars or tins instead of tubes, add 1 tablespoon more of your preferred oil. For extra shine, replace 1/2 tablespoon of your preferred oil with castor oil.
Step 2: Place 1 tablespoon of solid butter
Shea butter and cocoa butter make excellent choices. If you prefer a fruity flavor, you can opt for mango butter. Kokum butter can also do the job. Note that coconut oil doesn't count as butter, even if it's solid. Avoid butter made of cow's milk. It just doesn't make a good lip balm.
Step 3: Add 1 tablespoon of beeswax pellets
Opt for ivory or white beeswax for the purest color. However, if you can't find these colors of beeswax, pale yellow beeswax will do the job. Just note that your lip balm will have a yellow tint.
If you're vegan, replace beeswax with 1/2 tablespoon of candelilla wax. It's a bit harder, but you will still get a good lip balm. And since it's slightly harder, don't use more than 1/2 tablespoons.
If you are looking for some good quality beeswax pellets try these ones available on Amazon.
Step 4: Put the safe-heat jar into a pot filled with water
Add a few inches of water into a saucepan. Then, place the jar with all the ingredients in your saucepan. The water should get to the top of the ingredients in your jar. If the water goes below them, simply add more water.
Step 5: Heat the pot until everything melts
Heat your pot to medium-low temperature and wait for your ingredients to melt together. Then, stir the ingredients with a spatula or spoon to speed up the melting. Make sure the water doesn't enter your jar. The melting time depends on the type of solid butter and your stove.
Step 6: Remove the jar and add 5-10 drops of essential oil
Vanilla and spearmint make great options. However, you can also utilize lime, lemon, orange, tangerine, or mandarin. You can either utilize one type of essential oil or mix different types.
Add 4 drops of rosemary essential oil and 8-10 drops of any other essential oil to make your lip balm last longer. Also, don't add oils until you remove the jar from the saucepan. Otherwise, the heat will ruin the properties of the essential oils. Let your mixture cool down a bit, then add the oils.
Step 7: Stir in 5 drops of vitamin E oil (optional)
Adding a few drops of vitamin E oil will make your homemade lip balm more nourishing because vitamin E promotes regeneration and cell turnover. It also acts as a preservative, so your lip balm will last longer. You can either utilize vitamin E oil from a bottle or capsule.
Step 8: Pour your lip balm into tins or tubes
Prepare 7-8 lip balm tins or tubes. Then, slowly pour the melted ingredients into these tins or tubes. You can also utilize a stainless steel funnel to help pour the melted ingredients into these containers.
If your stainless steel funnel gets clogged up, you can easily unclog it with a skewer or toothpick. I would also like to mention that you should wipe down the exterior of the jar with a towel if it's still wet.
Otherwise, you will get water into your lip balms. You can also utilize a dropper or baster for pouring the mixture into containers. However, they will be hard to unclog if the mixture hardens inside them.
Step 9: Let the lip balm cool down overnight
The final step of the process should take about 1 hour. However, you can speed things up by adding the tins or tubes into the fridge for a couple of minutes. Once your homemade lip balms cool, add the lids or caps onto the tins or tubes. Voila! You have made delicious lip balms!
Last Tips
You might consider making your lip balms because drug store versions have some shady ingredients like parabens, petroleum jelly, synthetic colors or dyes, chemical sunscreens, and flavor or fragrance, so let's talk about these ingredients and explain why they're kind of dangerous.
Parabens
Also known as butylparaben and methylparaben, they're utilized as preservatives. They're also known as endocrine disruptors that increase the chance of breast cancer and reproductive problems.
Petroleum jelly
Vaseline contains petroleum jelly, a highly refined oil made of fossil fuels. Not only does petroleum jelly clog your pores but also contains chemicals and carcinogens that cause estrogen dominance.
Synthetic colors or dyes
You can easily find synthetic colors and dyes primarily in tinted lip balms. They're made of heavy metals that cause irritation and allergies. And if accumulated for a long period, they might cause cancer.
Chemical sunscreens
Many chemicals like octisalate, octinoxate, oxybenzone, homosalate, octocrylene and avobenzone help sunscreen get into your skin quicker, especially in direct sunlight.
They're estrogen mimickers associated with low sperm count and endometriosis in females. Thus, if you prefer lip balms with SPF, look for those with non-nano zinc oxide.
Flavor or fragrance
Unfortunately, companies aren't legally obligated to reveal what chemical makeup flavors or fragrances they use. Typically, it's a man-made mixture that includes synthetic musks and phthalates, also known as hormone disruptors. So, keep that in mind when buying lip balms.
Wrap Up
Making lip balm with beeswax at home isn't hard. On the contrary, it's a super easy process that doesn't take longer than 15 minutes. It's also a thoughtful gift for your loved ones.
If you give this recipe a try, share your results in the comments! Also, if you have questions, suggestions, or experiences, drop a comment, and let's continue the discussion below!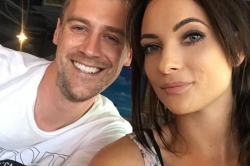 Latest posts by Andrew Scents and Aroma
(see all)