Candle flames can have different spiritual meanings based on their colors and how they burn. For example, while it is pretty common to see regular candles burning with blue or orange flames, there are other colors, such as black and blue, and all these colors have their spiritual meanings.
This article discusses the different candle flame colors and their spiritual interpretations. We'll also learn about the spiritual meanings of candle flames based on how they burn, that is, is the flame a tall, flickering, sputtering flame or even showing any extreme movements.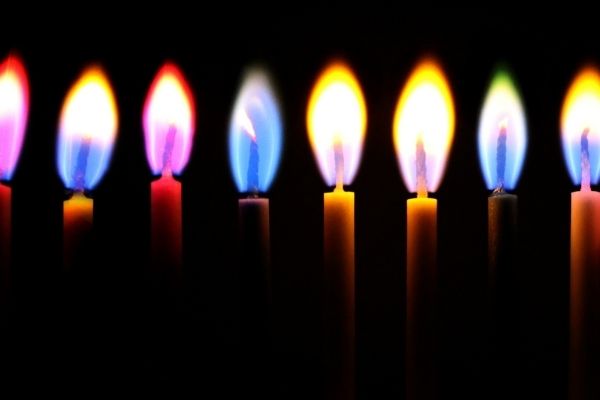 WHAT DO DIFFERENT TYPES OF BURNING CANDLE FLAMES MEAN?
Candle flames have been used in magical and spiritual practice among the Druids, Greeks, Mesopotamians, Egyptians, and Babylonians over the years.
Different candle flames are believed to have different meanings, and they hold magical and spiritual meanings, especially to people who believe in mysticism. The colors of a candle flame, scents, brightness, and even how they burn have various interpretations.
If you would like to get experience the spirituality that candles can bring I highly recommend this Chakra candle set on Amazon, trust me you will love it.
INTERPRETATIONS BASED ON FLAME COLORS
A candle flame's color can mean specific things to its user in magic and spirituality. Colors are the most common ways to make spiritual interpretations of people's energies, future events, and lives through flames.
Check below to see what the spiritual interpretation is to your candle flames color.
RED
When a candle flame burns red, it foretells imminent danger or intense passions and love between two people. It can also mean that something harmful is currently happening to a person or will happen to a person. In magical practices, it represents either spells to ward off harm or love charms.
WHITE
The white color often represents celestial presence like gods and goddesses; it also represents purity in one's aura. When a candle flame burns white, it means a god or a goddess is present who will bestow kind favors, or that healing is taking place. It can also mean that the person who lights the candle is of pure heart and spirit, or that the environment is peaceful.
ORANGE
Orange is the color of ambition and success. It is believed that orange flames mean that a person's ambitions will be attained. It encourages one to be intentional about their aims and goals in life. The orange flame will help achieve desirable results in a person's life.
PURPLE
Purple symbolizes divination. This color is used alongside other divination tools such as tea leaves and tarots. Purple flames can be used to communicate with the dead, honor their memories, carry out spiritual rituals and improve spiritual knowledge.
GREEN
Green signifies growth. It represents the coming to life of something or healing as it is the color of nature. If a person has gone through a rough phase and is seeking guidance as to whether the future holds something better, the color green is a positive answer. It also implies prosperity, healing, and fertility.
BLACK
Black idealizes protection. It is the color used by magicians to represent protection spells from evil. It can also be used to cast evil upon others in retaliation. Black candles are used in rituals that repel evil powers and energies.
BLUE
Blue flames are also flames of protection. But beyond protection, they signify healing and breaking bondages. The blue flame is used in magical rituals to heal emotional wounds, open chances of communication between broken parties, open blocked channels of wisdom, and aid in cleansing rituals.
PINK
The color pink is also a color of love. It translates to the coming of a new lover or mended relationship with a past lover or family. It is less intense than the red-colored candles. It is also a color that attracts a lover into a person's life.
WHAT ARE THE INTERPRETATIONS OF CANDLE FLAMES DIRECTIONS?
Below you will find all of the different movements that you may see from your candles flame. Along with this I have included the movements spiritual interpretation.
A TALL FLAME
In magic, tall flames are indicators of strong rituals or spells, meaning that the ritual carried out is very successful. Such rituals can break negative curses and change difficult situations.
FLICKERING FLAME
A flickering flame tells that a ritual being carried out is problematic. Another interpretation of the flickering flame is the rise of emotions that can lead to conflict among the parties present.
By the way if you wold like to learn about the non spiritual meaning as to why a candle flame may be flickering check out this helpful guide that I wrote.
WHAT ARE THE CARDINAL INTERPRETATIONS FOR FLICKERING FLAMES?
North: If a flame flickers North, it means the occurrence of magic or spells was caused by a physical being, not a spiritual one.
South: Your intentions are surrounded by a massive amount of physical energy.
East: This indicates that the mental aspect of your ritual or spell is working effectively.
West: This implies strong emotions and energy are at work during the ritual.
WHAT DOES A SPUTTERING FLAME MEAN?
A flame that sputters is said to represent the existence of communication with a spiritual entity. If the flame is often loud and cracking, it indicates the occurrence of a conflict or an argument.
Additionally, a continuously sputtering flame might mean that forces are working against you at that point, so it's best to continue the ritual later.
WHAT DOES A TREMBLING FLAME?
A trembling flame foretells a coming disappointment or failure. It is a warning to be careful when making important decisions in the near future.
WHAT DOES A DANCING FLAME MEAN?
A dancing flame means that the ritual has the potential to work, but it is being hindered by other problems, such as the presence of opposing forces.
WHAT DOES A DUAL FLAME MEAN?
A dual-colored flame is a possibility, and it means the presence of two energies. The positive connotation could mean that two powers are working together in your favor, especially if both flames burn calmly. On the other hand, the negative connotation could mean opposing forces working against each other. For example, they could make cackling and violent sounds.
WHAT DOES IT MEAN WHEN A FLAME EXTINGUISHES ITSELF?
This means all is done and well. The ritual, spell, or prayers have been accepted by a higher power and have come to a successful end or can be continued later.
CONCLUSION
Candle flames of different colors have different spiritual meanings. They are interpretations of our spiritual and physical states. They can indicate successful or problematic rituals; thus, it is pertinent to pay attention to how candle flames behave during ritual sessions and ensure that they are interpreted correctly.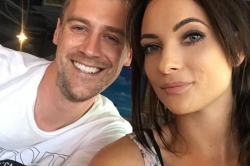 Latest posts by Andrew Scents and Aroma
(see all)