As the nights draw in and temperatures drop, we turn on our radiators and enjoy getting cosy in front of the fireplace.
But, unfortunately, it's also the time of year when we tend to wash our hands more due to ever-present coughs and colds. With this, of course, often comes itchy, dry, and sore skin.
Many people head to the shops to buy a hand lotion, but did you know that you can make your own using soy wax? 
Well the good news is that you can make your own natural skin balm from Soy wax at home. This article will explain in detail why soy wax is great for your skin and as an added bonus I have included my guide on how to make your own soy wax skin balm.
For those that do not have the time to make their own Soy wax skin balm you can take the shortcut and buy some. My wife and I have tried a few and one of our favorites is this one available on Amazon (don't worry the link opens in a new window).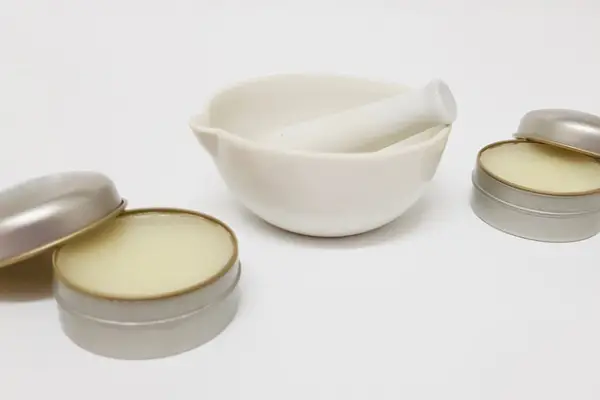 Why use soy wax?
Soy wax, unlike paraffin wax, is a vegetable wax. You can clean soy wax with water, and it's biodegradable too. 
Soy wax is made from soybean oil. First, the beans are harvested, cleaned, and de-hulled before being rolled into soybean flakes.
The flakes then undergo a process of extraction to release the oil, which is then hydrogenated. The process of hydrogenation allows some of the oil's fatty acids to be converted into saturated from unsaturated.  
Soy wax is much creamier and softer than beeswax, and it is also vegan. Let's take a look at the benefits of soy wax on skin
Is soy wax good for the skin?
Soy wax has a melting point that is only slightly warmer than body temperature. Its melting point is around 49 degrees Celsius. This means that it can be dripped directly onto the skin.
The only thing you would need to worry about would be the flame itself. 
If you have a soy wax candle with essential oils infused into the wax, it makes a great, nourishing oil.
All you need to do is burn the candle until there is a large amount of melted wax, put out the candle, and then drip the oil or dip your fingers directly into it before applying it to the skin.
When used in this way, soy wax oil leaves your hands (or any other part of your skin) soft and smooth, with a pleasant scent.
However, soy wax is not as good at distributing scents as paraffin wax – but this does not affect its use for the skin. 
Unlike other waxes, like beeswax and paraffin wax, soy wax is good for your skin, and its low melting point means that it is comfortable to be dripped directly where you need it.
As with any new product, it's a good idea to do a patch test before applying this extensively. The chances of an adverse reaction are very minimal, however.
Can you use soy candle wax as a lotion?
Yes. Soy candle wax is great when it is used as a lotion. However, there are some things you should be aware of.
First of all, you should check that the soy wax you are using is cosmetic grade. There are not many people who experience side effects to wax, but only one type of soy wax, CB-135, has been tested dermatologically.
Candlemakers tend to avoid CB-134 because it often has an unattractive layer on top of the candle.
Soy wax is polymorphic in nature, which means that crystals are formed easily over time and with changes to the ambient temperature.
This means that if you see a candle with an ugly-looking top layer, you know you've got the right type.
They don't have to have this layer to be the right type, though. Otherwise, look for soy wax candles described as dermatologically tested or cosmetic grade soy wax. 
Finally, if you see a candle that is listed as being soy, you should check its concentration. A soy wax candle only needs to be more than 50% soy to be labelled as such.
Is soy wax good for hand treatment?
Soy wax contains all-natural ingredients, which means that it is safe to be used on the skin.
It can be used all over your body. It is recommended that you use soy wax on any body part where you would typically use another beauty product, like a moisturiser.
For example, soy wax is great on dry and scaly skin, like the skin often found on heels or elbows. Soy wax is also really good for massaging and applying to your cuticles.
Another thing to be wary of is if the candle contains too many fragrance oils. With the right soy wax, you get an amazing, lasting scent on the skin.
To ensure that your soy wax is safe, you should buy from a trusted source. The wax should have a maximum of 4% fragrance oil. 
Home made Soy wax lotion recipe
While you can simply apply soy wax alone to your skin, lots of people like to add other ingredients too to make a soy wax lotion.
The best thing is that this recipe can be followed along at home so you will never need to buy your skin lotion again.
Here is one recipe that you can alter to your tastes. You will need:
To make the lotion, here are the steps you should take:
1. Melt the soy wax using medium heat until it has all melted and has a clear appearance.
2. Add the Shea butter and stir it into the wax as it melts.
3. Mix in the essential oils and coconut oil until the mixture is all blended and melted together.
4. Pour the mixture into your jars.
5. Wait until the mixture has set before using.
Soy wax lotion bar recipe
Another item you can make with soy wax is a lotion bar. This means that it is a solid bar at room temperature, but its surface will melt when you rub it on your hands.
There are only three ingredients needed for this recipe: Shea butter, coconut oil, and soy wax in equal parts. 
To make the bar, you need to:
1. Place the Shea butter, coconut oil, and soy wax in a heavy pot.
2. Heat the mix gently and stir regularly until all of the ingredients have melted.
3. Pour the mixture into moulds – a silicon muffin tray is ideal.
4. Allow to cool before removing the moulds. You can chill the mixture if you want to speed up the finishing process. However, you don't need to chill the finished bars. 
If you want to add extra ingredients, you can add essential oils to the mix after removing the pot from the heat. Remember not to use too much. 
If you enjoyed reading this article why not check out some more of my soy wax guides.
Final thoughts
When you have used soy wax on your skin, you will never look back. Your skin feels nourished and smooth and smells divine.
Soy wax is a great skin treatment for the cooler months, and its effects last much longer than a regular lotion and can really help counteract the effects of cold weather and heating.
An additional advantage of using soy wax is that it is environmentally friendly. Unlike paraffin wax, which is derived from crude oil, soy is completely renewable.
And, despite being denser than paraffin wax, it's much softer. What's more, there is an unlimited supply of soy – we can simply choose to grow more!
The soy market has seen a huge boom in recent years, and if you've tried soy wax on your skin, you'll know one of the reasons why.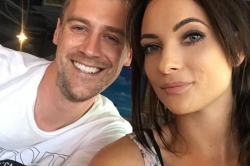 Latest posts by Andrew Scents and Aroma
(see all)