Who doesn't love a scented candle? The warm glow and lovely aroma wafting around your home is a relaxing experience.
Some scented candles can be quite pricey so it goes without saying that you want it to work well every time. There is debate about scented candles needing lids and in this article I will tell you if your scented candle needs a lid.
Do scented candles need lids? In reality your scented candle does not need a lid to work. However by using a lid you will stop some loss of fragrance due to the external environment. Another benefit of using a lid is that it can stop a build up of dust accumulating on the wax surface which when burnt can smell horrid.
So that's the short answer to why you may want to use a lid on your candle whether you buy them of make them to sell.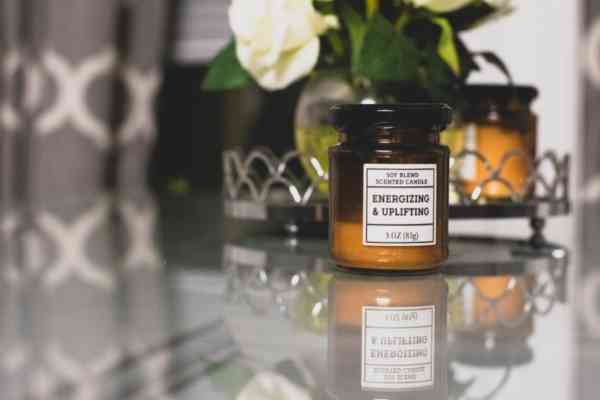 I have learnt from experience that it does make a real difference. Especially if you leave your candle standing without a burn for a long period of time.
Now I would like to list in better detail some of the benefits of using a lid on your scented candles.
The benefits of using lids on scented candles.
Here are some of the amazing benefits at you will get by simply placing a lid on your scented candle.
No dust
For me this is the biggest benefit. Sometimes manufacturers even call them dust covers instead of lids and this is the main reason for use. Candle wax seems to have an amazing ability to collect dust. I was left my candle without a lid for a couple of months and then lit it without checking. The smell from the burning dust, hair and dead skin cells that had landed on it was literally horrific!
Locks in the fragrance
It does not matter if you use fragrance oil or essential oil in your candles. Without a lid you are risking losing a fair amount of the beautiful scent from your candle. Using a lid on your candle with stop the air around it from weathering your wax and releasing the fragrances.
Looks great
If you are making candles to sell and want to get more buyers then you should start putting lids on your candles. They make the candle look great and much more professional. Lids come in a variety of different styles, colours and even materials so there will be a lid to match your candle container.
Lid types available for scented candles.
When it comes to buying the perfect lid for your candle there are several options that are available.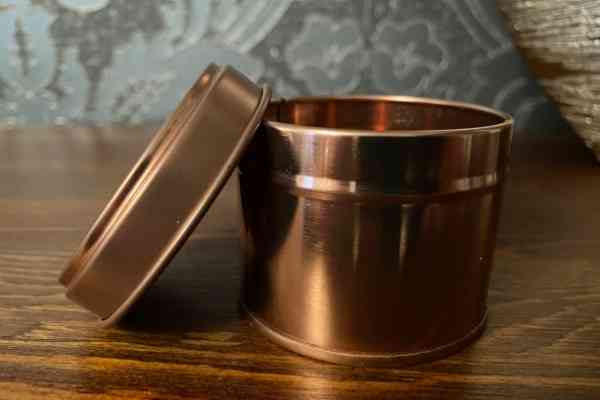 Dust Covers: Dust covers are usually shaped like a typical lid and will come in gold, silver and rose gold colours. Instead of making a tight seal to your candle container they sit over it loosely, stopping any dust from getting in and minimising fragrance loss.
Bamboo lid: A bamboo lid looks like a wooden stopper that usually has a small rubber seal running around the circumference. These types of lids form a tight seal with the candle container stopping anything getting in or out. Another benefit of a bamboo lid is that they look awesome!
Candle tin: This arrangement is one of my favourites and is a big seller in our candle shop. The candle tins come in 3 different sizes and are available in 3 colors, gold, silver and rose gold. The metal tin lid is a snug fit for the container and is great at keeping your candle in top top condition.
Glass stopper: Much like the bamboo lid a glass stopper fits tightly in the candle container and utilises a rubber seal around the circumference. These types of lids look very ornamental in an elegant candle glass.
What to do if you do not have a candle lid.
If you have just bought a scented candle that does not have a lid and you do not want to have to buy one you could make a makeshift lid.
You could cut one out of thin wood if you have any laying around.
A thick circle of cardboard may look unsightly but it will do a great job of keeping any dust out and will help to stop fragrance loss.
One important thing to note though when using a diy lid is that you must make sure that the candles flame is fully extinguished before placing the lid onto the candle. This will make sure that there is no chance of a fire starting.
Conclusion.
I really hope that you have enjoyed reading this article and learnt a few tips along the way.
I think that it is fair to say that although scented candles do not need lids on them that it is a really good idea to use one. It will help to keep all of the fragrance from seeping out and more importantly stop dust and other particles from ruining your candle.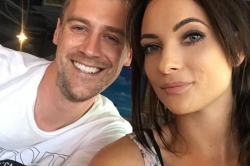 Latest posts by Andrew Scents and Aroma
(see all)